Triple I/O 2 is a custom handmade MIDI controller with RGB LED rings, three switches, MIDI OUTPUT and INPUT sockets.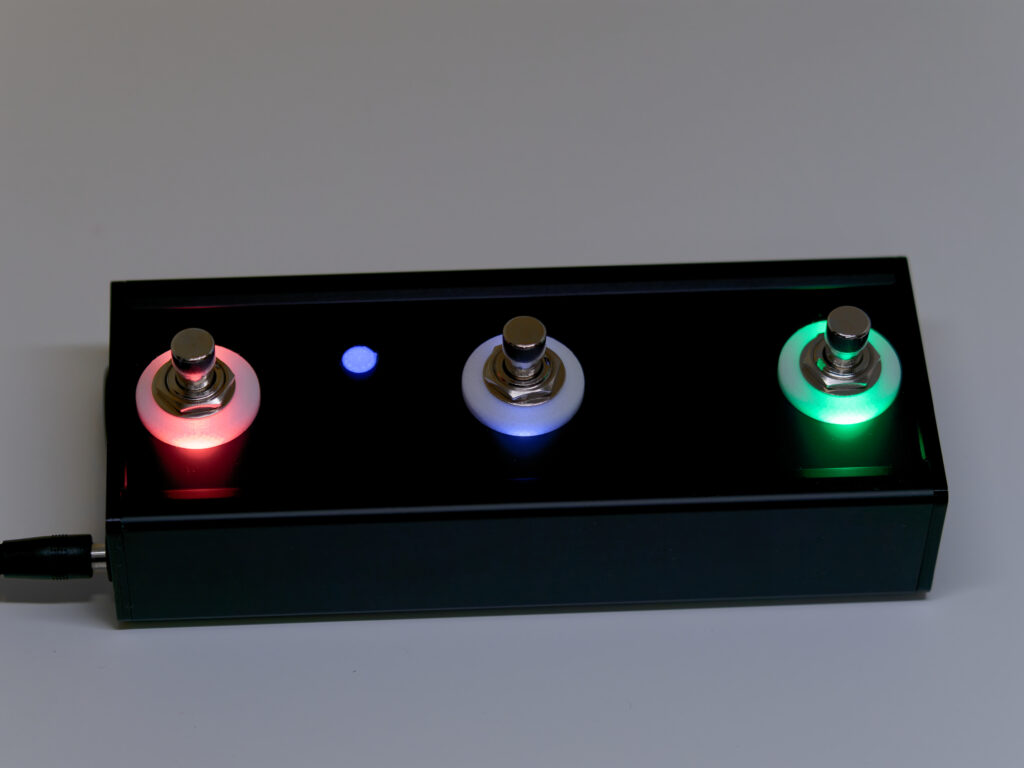 Controller can be operated by single button clicks (A, B or C), simultaneous click of two (A+B or B+C) or three buttons (A+B+C) and long presses of single, two and three buttons, what gives a plenty of features!
Controller is preprogrammed for easy use with HX Stomp – no user configuration is needed!
RGB LED rings can change color – depending on selected mode of controller, rings colors can be used as visual feedback, for example colors can be assigned according to block types and its states. Rings color selection is done by sending MIDI messages from HX Stomp to Triple I/O 2 (using Command Center in HX Stomp and Instant Messages).
Triple I/O 2 firmware for HX Stomp features 5 useful modes:
Preset Mode (with moving TAP*) – In that mode you can choose presets in banks (of the controller) of three presets. Function based on Program Change MIDI message
Snapshot Mode (with moving TAP*) – Recalling snapshots 1-3
FS Mode – access to FS4, FS5, Tap tempo & Tuner, with selectable LED rings color
CC Mode – each button can work as CC toggle, which can be assigned to block bypass/parameters. Color of the rings can be selected by user.
Looper mode – control over looper block in HX Stomp (record/overdub, play/stop, undo)
*Moving TAP is special controller feature – allows to TAP tempo using button of currently selected preset / snapshot. First press of the button recalls preset/snapshot and the next presses of the same button sends TAP tempo.
Tuner is accessible in all modes under C button hold (except Looper mode).
Triple I/O 2 can also receive MIDI clock to synchronize blinking of TAP button with tempo in your preset.
Dimensions:
Lenght: 168 mm
Width: 65 mm
Height: 40 mm (+20 mm button height)
Weight: ~300 g
Power requirements:
-DC 9V (center negative), <200mA